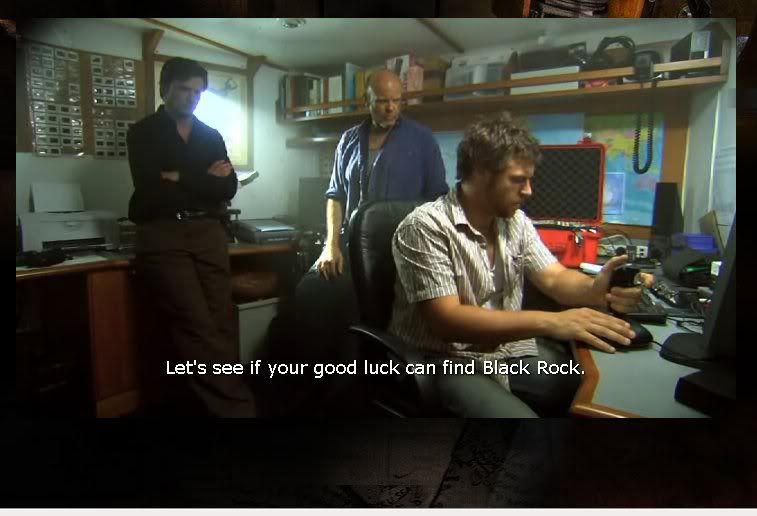 Today's final update starts with a video of Ockham communicating with the crew of the Christiane 1 to lower the ship's ROV. Ockham is counting as they lower the ROV. The final number he says is
480
. Is that 480 feet?
Once this is successfully done, we are led to the...

FINAL ACTIVITY

Find the Black Rock:
The object of the game is to maneuver the ROV through ten different way points that could be the

Black Rock

.
You have 3 minutes to complete the activity.
If you have a slow internet connection you are advised to click the low resolution button.

Thewonderllama

sent in a PICTURE of one of the paths that works. (Thanks!)

Upon completion of the activity we are given our...
FINAL VIDEO
As Sam watches the ROV top a crest on the ocean floor,

Oceanic Flight 815

comes into view.
Sam is extremely distraught!
Talbot has a very smug look on his face.
Then the video changes to Sam watching the news about how Oceanic Flight 815 was discovered. The news anchor reports that sympathies are flooding in for Sam Thomas.
The news cuts to an interview with Oscar Talbot. Apparently Talbot "hopes this discovery will bring some closure to the families". Talbot says "Sam had studied every aspect of the plane and in an extraordinary twist of fate, he had his answer"!
FINAL THOUGHTS


As usual, there are screencaps posted in
Oceanic-Conspiracies Photobucket Album
.
It seems were are left with a lot of unanswered questions. Talbot's final words have me thinking that we were right all along about this being an "accidental" find. What do you think? Who is Oscar Talbot working for? Exactly how deep was the wreckage? I would assume that since Sam used an ROV to find it, it was too deep to "recover" the bodies. How did it get there? Who put it there? Last, but not least, how will they explain finding the wreckage in the Sunda Trench?
In closing, I just wanted to say (and I am sure I speak for the whole Oceanic-Conspiracies Team) how much I have enjoyed working with everyone here. I can't wait for
S4
tonight! I look forward to chatting with everyone over at
The Lost Community
!
Thanks to

Robin Hood

who sent us some reversed audio from the video diary from last night. No doubt there is a voice in there. I've uploaded the file as sent (it is reversed, trimmed audio from the video). I also did some noise reduction, compression and normalization on it and put the modified version. HERE is the original, and HERE is the modified version. Check it out and post what you think it says. ~Fenris


NOTE
:
Don't forget, in theory the
Maxwell
site goes live at
7:08PM EST
. So there may be one more part to this puzzle.