UPDATE 1/23 -
Last night
Maven
e-mailed us about some numbers showing up in the
Sunda Trench
website on Sam's laptop. I took a screen grab and played with the contrast and they
are
there. Click
here
for the picture in the
Oceanic Conspiracies Photobucket
.
Carol
in comments mentioned that the numbers are in columns and when thinking about the Walt Whitman
poem
from the other night along with the equations at the bottom of each column, we glean that you need to
add
each column and
divide
by 6. Here's what you get:
a: 115 b: 104 c: 105 d: 109 e: 109 f: 114

These numbers can then be converted into ASCII characters and these come out as:
S H I M M R

What these are for and/or what they mean is as yet unclear.

~Ange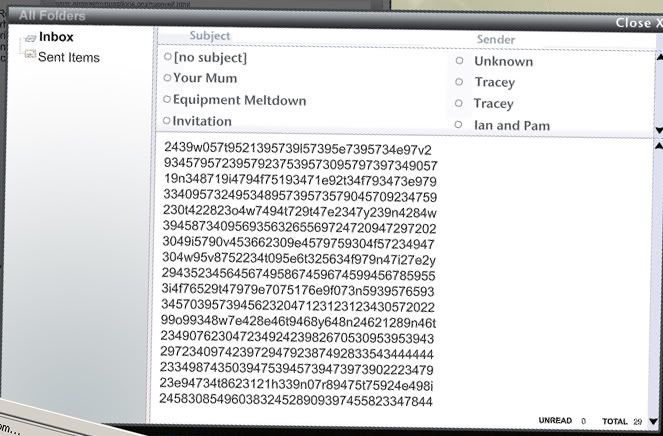 Tonight we have a
voice mail
and
four new e-mails
.
Voice Mail:
From

Randy's Office

- It's someone called Richard calling per Randy. There is an insurance pay out from an investment in a

box company

that has come through and would like to know how he is to get him the money.
E-mails:
Subject:

your mum

Sender

: Tracey- she called his mum and confirms that she is worried about him. She's also scored an invite for Christmas with Sam's mum.

Subject:

[no subject]

Sender:

unknown- It's a random string of numbers and letters again.

The letters in each line are anagrams for numbers spelled out (ie. twelve, fifteen, etc). When decoded you get:


12 15 22 5 25 15 21 13 1 4 12 25 which using corresponding letters of the alphabet gives you LOVE YOU MADLY
Is this a message from

Sonya

?!
Thanks to

Ellen

in comments who points out:

Sun would tell Jin that she loved him every time she spoke to him, and then he would ask her, "madly?" and she would respond with "yes, madly." It became sort of an icon...especially when we got the flashback of her infidelity.
(Thanks
Takes a Village
for the e-mail and
Jess
and
Fenris
for working it out.)
Subject:

payout

Recipient:

Randy- Per message he is replying by e-mail because he can't make calls. He's happy about the

box company

payout and he needs the money now that he's not at Oceanic.

Subject:

Homesick

Recipient:

Tracey R- Sam thanks her for the "

holiday tip

" but he won't be following up on it.
So is the box company THE
box company
?
Is there more to the whole

Mum

part of this story? Are these messages telling us something? Does Sam not following-up on the

holiday tip

mean that that clue is a dead end? Could the possible

Jin

and

Sun

reference be a clue that

Paik Heavy Industries

is involved here?