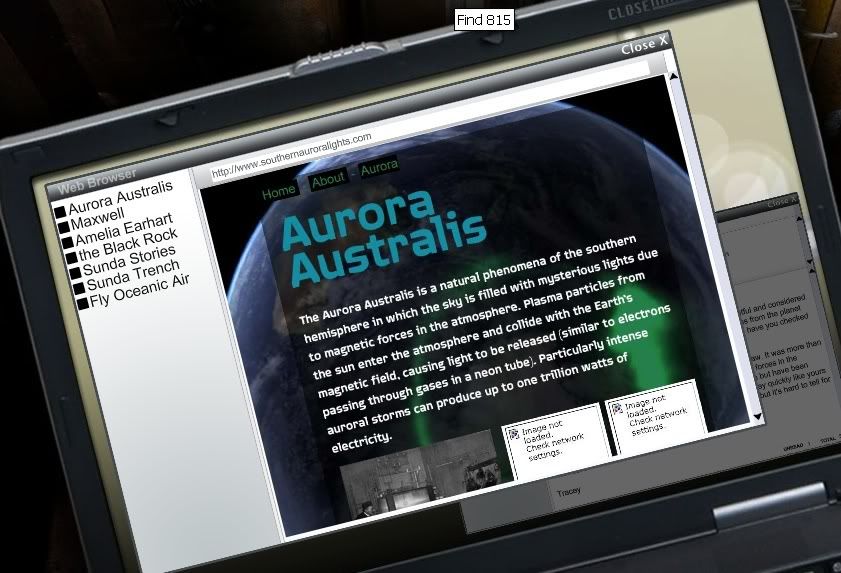 Tonight there are two e-mails and a web site.
Sent Mail
Subject: Strange Lights Recipient: Tracey- Sam explains to Tracey that he saw a "green cloud of light" while on the deck of the Christaine 1. He explains that they blended and moved, and faded after 20 seconds.
Inbox
Subject: Lights Sender: Tracey- She kids Sam about aliens from the planet Zubelleedubellee. She also explains that Sam most likely saw an aurora, but that the one he saw seems like it faded away too quickly. She also mentions that it could be related to the "...mishap on the bridge the other day." (referencing the time all of the instruments went haywire).
It seems Sam decides to to a little aurora research himself and finds tonight's website.
Website:
On Sam's laptop we get a web site for the Aurora Australis (It looks like Kyle was a little clairvoyant with that link he posted in comments today!).
These are natural phenomena in the southern hemisphere caused by magnetic forces in the atmosphere and plasma particles colliding with the Earth's magnetic field.
www.southernauroralights.com is a live site.
There are two images not loaded and one that is.
Some things of note. The planet name Tracey mentions seems long and elaborate. Is there something hidden in Zubelleedubellee? Also when Sam writes to Tracey he sometimes writes to Tracey and other times to Tracey R. Is this significant?